Australia

$5 FREE – Epic Fair Go Casino 5th Year Anniversary Promo
Celebrating Fair Go's 5th Year Anniversary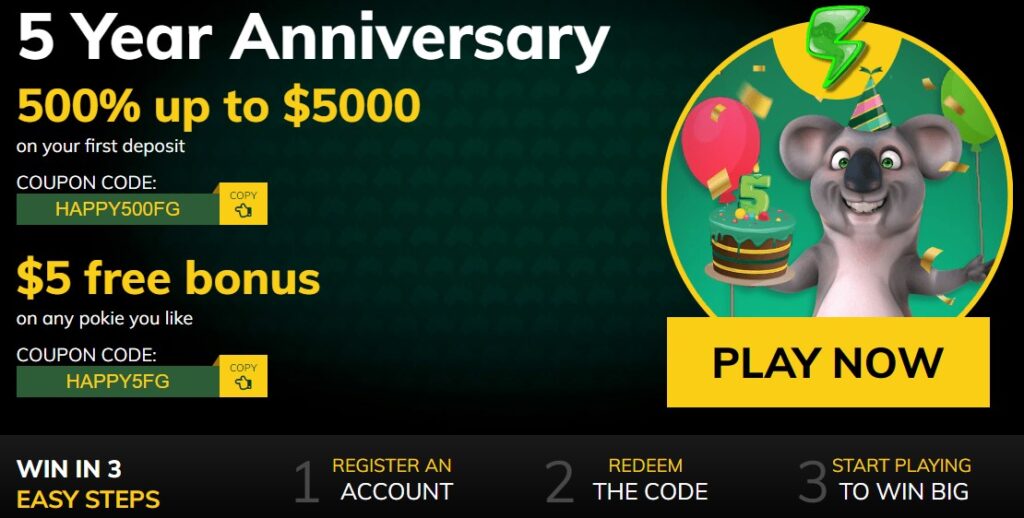 June 2022
Yep, it's been 5 years since Fair Go casino launched. What started as an idea has since blossomed into Australia's most popular online casino. Trusted by thousands and loved by all, Fair Go wouldn't be here today if it wasn't for the loyal support of members like you.
So, to celebrate this massive milestone and reward the people who made it possible, we're going all out with a 5-year anniversary fiesta. Below are just a few teasers for what we'll be rolling out over the next month and a bit.
From a $5,000 freeroll tournament to our biggest Fair Draw raffle ever, these anniversary promos will prove that Fair Go is the home of lucrative all-Aussie prizes.
$5,000 Fair Go Casino Guarantee Freeroll Tournament
Our tournaments have become one of the most beloved aspects of Fair Go. Not only do they add an extra layer of enjoyment to your online casino experience, but they can also line your pockets with cold hard cash!
For this reason, we're hosting a $5,000 Casino Guarantee Freeroll Tournament.
Free to enter with $5.00-17.50 Add-Ons, this competition encompasses 5 weeks of $5,000 cash prizes for a total accumulated tournament prize pool worth $25,000.
That's an incredible amount of money by anyone's standards, but it's also an opportunity to play our most popular games. The first week is Cash Bandits, followed by 5 Wishes, Thai Emerald, Spring Wilds and Plentiful Treasure. All of these are excellent fun to play… tournament or not.
Take it from us, Fair Go punters. You don't want to miss this $5,000 Casino Guarantee Freeroll Tournament. Get ready for its launch during the first week of March and make sure you're still playing come the start of April!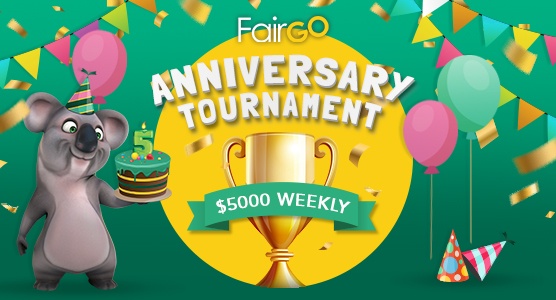 Interesting facts about Fair Go casino
Fair Go Casino is a straightforward online casino in Australia, but there's more to us than just koala mascots and witty articles.
We host the best of the best when it comes to online pokies, with games like Plentiful Treasure, Cash Bandits 3 and Halloween Treasures all getting heaps of playtime at Fair Go. We also seem to pay out a huge number of jackpot wins, which can be attributed to our excellent progressive pokies.
It's hard to go past our bonuses too. We host daily cashback, Fair Draw raffles and deposit method rewards, plus seasonal promotions that'll keep you on your toes (and ensure your wallet stays fat).
Of course, it's easy to sit here and claim all these things, but we try not to big-note ourselves all that often. We'd rather let our Fair Go players do the talking. You can read your fellow members' testimonials online right now.
Like flipping through magazines on a lazy Sunday arvo? Then you're going to love Fair Go X, the only Australian online casino magazine in circulation. It's infinitely more uplifting than any newspaper and more packed with special treats than a box of Celebrations. Most of all though, it's flush with funny Fair Go tidbits to make you a savvier punter.
If you'd like to learn more about what makes Fair Go so legit, keep one eye on your emails. We'll be releasing different facts over the next few weeks and giving you an insight into what makes us tick.

An in-depth peak at Fair Go's progression
While we're peeling back the Fair Go façade for our 5-Year Anniversary, we thought it would be appropriate to map out just how far we've come.
We weren't always the most popular online casino. Once upon a time, we were just a glimmer in the eye of our ocker founders. Piece by piece we put Fair Go together and added new features based on your constructive feedback. Like we said earlier, the tale of Fair Go is really a tale of innovation, excitement and big risks. None of which could be possible without your help.
From the arrival of Kev the Koala to our very first Wheel of Bonuses and the way we weathered the coronavirus pandemic, it's been an absolute pleasure to watch Fair Go grow over the past 5 years.
So, take a walk down memory lane with your mates at Fair Go casino. All you need to do is read our timeline. Everything you need to know about our online casino is there for you to read.

$1,000 each week for 5 weeks with our massive Fair Draw raffle
Our Fair Draw raffle is perhaps the most-enjoyed promotion that we run. Available to play every week, the standard Fair Draw requires you to make a deposit in order to enter the raffle. You then go in the running to win up to $1,000 in cash prizes.
For our 5-Year Anniversary Fair Draw, however, we're doubling the rewards for our raffle. This means that you can enjoy bigger bonuses for 5 weeks, simply by topping up your Fair Go account. The rewards are as follows:
Previously: $50 – Anniversary edition: $100
Previously: $100 – Anniversary edition: $200
Previously: $250 – Anniversary edition: $500
Previously: $500 – Anniversary edition: $1,000
That's 5 weeks of special anniversary edition raffles with double rewards up for grabs. All you need to do is deposit to play. After that, it's up to Lady Luck whether your name is picked, but you know what they say: "You've got to be in it to win it".


Heaps more hidden surprises, special rewards and promos to come
If you're just as excited as us about our 5-Year Anniversary promos then now's the time to play. Whether it's our $5,000 Casino Guarantee Freeroll tournament or our doubled-up Fair Draw raffle, you won't be short of cash to win.
In saying that, there are going to be more hidden prizes, special rewards and promos to come. You just need to keep your eye peeled over the next few weeks. Start by logging in to your Fair Go account using your computer or mobile browser. Then, join the celebrations and get winning your mates at Fair Go…
Stay tuned for amazing anniversary promos!